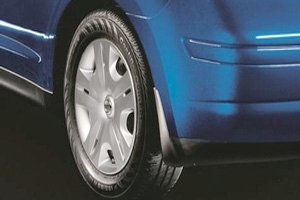 Splash Guards - Sedan
Save your Versa from an unwelcome mud bath. Contoured to match the wheel openings, splash guards help prevent dirt and debris from nicking and scratching the finish. Add value and style while helping protect your resale value. Four piece set.

Click here to view a PDF of the installation instructions.
Sedan - Amethyst Gray Part Number 999J2-43KBDList Price: $150.00 | Your Price $115.00
Add To Cart
Sedan - Super Black Part Number 999J2-43KH3List Price: $150.00 | Your Price $115.00
Add To Cart
Sedan - Cayenne Red Part Number 999J2-44NAH03List Price: $75.00 | Your Price $57.50
Add To Cart
Sedan - Primered Only Part Number 999J2-43000List Price: $150.00 | Your Price $115.00
Add To Cart
Sedan - Red Brick Part Number 999J2-43NACList Price: $150.00 | Your Price $115.00
Add To Cart
Sedan - Fresh Powder Part Number 999J2-43QM1List Price: $150.00 | Your Price $115.00
Add To Cart
Sedan - Brilliant Silver Part Number 999J2-43K23List Price: $150.00 | Your Price $115.00
Add To Cart
Sedan - Gun Metallic Part Number 999J2-44KADList Price: $150.00 | Your Price $115.00
Add To Cart
Sedan - Metallic Blue Part Number 999J2-43B17List Price: $150.00 | Your Price $115.00
Add To Cart
Sedan - Graphite Blue Part Number 999J2-43RAQList Price: $150.00 | Your Price $115.00
Add To Cart
Sedan - Titanium Part Number 999J2-43KACList Price: $150.00 | Your Price $115.00
Add To Cart