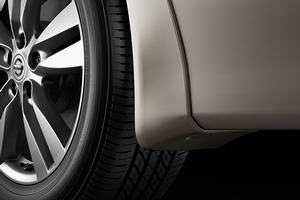 Splash Guards - Rear
Save your Quest from an unwelcome mud bath. Fits S2 and S3 models only. Set of 2. Contoured to match wheel openings, splash guards help prevent dirt and debris from nicking and scratching the finish. Add value and style while helping protect your resale value.

Click here to view a PDF of the installation instructions.
Rear - Pearl White Part Number G8810-1JA0AList Price: $75.00 | Your Price $57.50
Add To Cart
Rear - Twilight Grey Part Number G8810-1JA5AList Price: $58.00 | Your Price $25.30
Add To Cart
Rear - Brilliant Silver Part Number G8810-1JA1AList Price: $75.00 | Your Price $57.50
Add To Cart
Rear - Gray K51 Part Number G8810-1JA6AList Price: $58.00 | Your Price $49.45
Add To Cart
Rear - Super Black Part Number G8810-1JA7AList Price: $75.00 | Your Price $57.50
Add To Cart
Rear - Black Mahogany Part Number G8810-1JA2AList Price: $75.00 | Your Price $57.50
Add To Cart
Rear - Titanium Beige Part Number G8810-1JA3AList Price: $58.00 | Your Price $25.30
Add To Cart