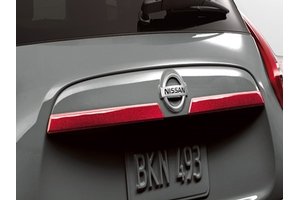 Hatch Handle Finishers - Colored
Add style and color to your hatch with JUKE Color Studio Hatch Handle Finishers. Goes perfectly with the Lower Hatch Accent. Available in eight different colors: Red, White, Yellow, Orange, Black Purple, Electric Blue, Matte Black, Carbon-fiber Look.

Click here to view a PDF of the installation instructions.
White Part Number KE791-1KA50WPList Price: $95.00 | Your Price $69.00
Add To Cart
Orange Part Number KE791-1KA50ORList Price: $95.00 | Your Price $69.00
Add To Cart
Black Purple Part Number KE791-1KA50BPList Price: $95.00 | Your Price $69.00
Add To Cart
Electric Blue Part Number KE791-1KA50EBList Price: $95.00 | Your Price $69.00
Add To Cart
Carbon Fiber Part Number KE791-1KA50CBList Price: $125.00 | Your Price $97.75
Add To Cart
Yellow Part Number KE791-1KA50YWList Price: $95.00 | Your Price $69.00
Add To Cart
Red Part Number KE791-1KA50RDList Price: $95.00 | Your Price $69.00
Add To Cart
Matte Black Part Number KE791-1KA50BMList Price: $95.00 | Your Price $69.00
Add To Cart