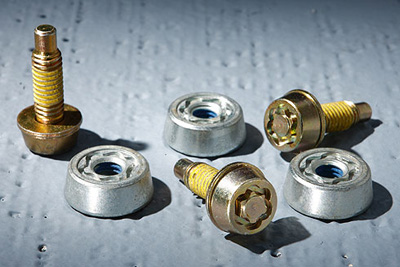 Air Bag Anti-Theft Bolt
Airbag security device provides extra protection against possible theft. Airbag Anti-Theft Bolt is easy to install, with minimum installation time. The bolts are constructed of hardened alloy steel and have round tapered heads that resist gripping tools. Airbag Anti-Theft Bolts have exclusive key codes which ensure the products integrity. Each locking bolt is packaged with a window decal designed to deter would-be thieves from breaking into the vehicle. May prevent the theft of your original equipment and any consequential damage incurred by attempting to remove the airbag. Locking Bolts provide 24-hour security that deters theft of factory airbags.

Click here to view a PDF of the installation instructions.
Driver Side Part Number 999L2-AL000List Price: $11.00 | Your Price $9.20
Add To Cart
Passenger Side Part Number 999M1-AD000List Price: $11.00 | Your Price $9.20
Add To Cart