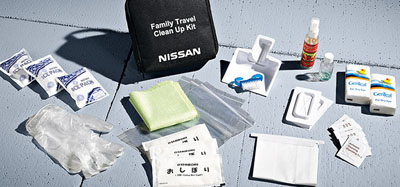 Family Travel Clean-Up Kit
Life gets messy. Clean up spills and splatters on the go. Basic cleaning supplies in a zippered nylon bag. Contents include: hand sanitizer, cleansing towelettes, clean-up wipes, plastic utility bags, paper scoop, plastic gloves, cold pack, air deodorizer, motion sickness bags, fabric cleaning wipes, cleaning brush, and tissues. Family travel clean up kit refill available.

Click here to view a PDF of the installation instructions.
Family Travel Kit Refill Kit Part Number 999M1-NX002List Price: $5.00 | Your Price $4.60
Add To Cart
Family Travel Kit Part Number 999M1-NX000List Price: $20.00 | Your Price $17.25
Add To Cart